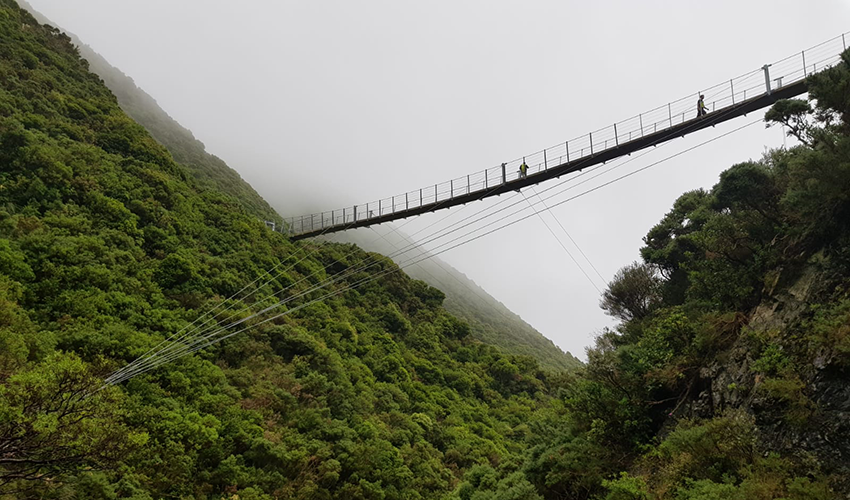 Swing Bridges | Edifice Structures
Swing bridges have become a standard part of New Zealand's landscapes, with hundreds of them making up cycling and walking tracks around the country. Allowing hikers to cross deep gorges and rough rivers, the simple swing bridge is a durable and cost-effective option for any walking or cycling trail. Able to withstand the extreme weather conditions in New Zealand.
Swing bridges are constructed of 2 main towers, with the bridge suspended from 2 or more cables anchored into the ground at each end. Making them able to 'swing' in the wind or move side to side when crossing them, but they're still secure enough to hold loads of people at a time and stable enough for cyclists and walkers.  Cables are added along the length of the bridge and secured with ground anchors to ensure it there is not too much movement in high wind or natural events.
The most suited location for a swing bridge is for crossing a gorge or river where a long section is needed. Many iconic remote trails in New Zealand will feature several swing bridges along the track, for example, the Remutaka Rail Trail featuring a 90m Edifice Swing bridge as pictured above.
To construct a swing bridge, our team work on the foundations at each end, continuing on with the ground anchors at each end. This task requires an experienced sub-contractor to ensure they're installed into solid rock and will hold the required loads. Cables are installed, and then the bridge structure is built around the cables, moving out from each end to meet in the middle.
To maintain a swing bridge and keep it in good condition, an annual check is a good idea. Checking bolts, timber and cables to make sure there are no weak connections or defects.